Please meet Rebecca !
Hi there! I'm Rebecca from
My Girlish Whims
and I'm so excited to be over here at My Mommy Can!!
I'm a 20 year old college girly girl who would rather be crafting then sitting in class any day. Over at my blog I love sharing my passion for beading, crafting, and general life as a girl!!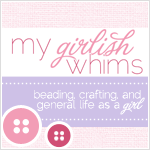 I may be a college girl but I secretly wish I could be married and having babies and be a cute little stay at home mom right now. I think this whole crafty blogging thing lets me feel like part of that club...even though I'm not yet
!
Me and Boyfriend!!
My favorite craft is jewelry making. My etsy shop,
Your Girlish Whims
, is where I make handmade accessories to match all of
your
girlish whims! Here are some of the pretties in my shop:
I post a new craft tutorial every week on my blog. Here are some of my favorites:
I made
this headband
from an old t-shirt I got after getting my wisdom teeth out. Who wants a t-shirt from their orthodontist?? Now it is much prettier.
My dorm room at college has super boring walls so I made this
Paper Fan Banner
to add some color!
As mentioned, I love to make jewelry and made this
black flower and bead necklace
because flowers and ribbon are SO IN RIGHT NOW in necklaces. Well, at least I think they are. I love wearing this one!
Finally, I tea-dyed some sheet music and made these
paper roses
out it. Perfect for a music room or any room really - they have such a romantic look to them!
I would be so happy if you would stop by
my blog
and say hi! I'd love for you to link up to my new link party every Wednesday to show me
your
girlish whims! Or, just leave me a comment. I love meeting new bloggy friends! :)
Thanks so much for having me here Jennifer! Hope you and new little baby are doing well :)